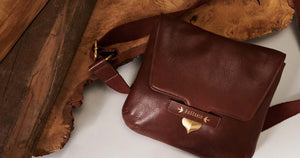 "I'm committed to balancing fashion with nature inspired pieces produced using the most sustainable methods available."
Sustainable Leathers
Sustainability is key and every material used has been ethically sourced. All leather products are crafted from biodegradable leather which is tanned without the hazardous chemicals and salts using far less water in the tanning process than would historically be used.
Behind the Brand
After more than 20 years designing accessories for some of the world's leading brands, Jo Heath launched her own eponymous accessory and bag brand in 2020. From its inception, the JoHeath brand's mission has been to create beautiful accessories inspired by natural forms whilst ensuring the designs positively impact on the environment.